source: www.countryliving.com
This is the time of year for entertaining.
Nothing signifies a party more than an offering of fine cheeses and merry-making drinks. Below are some suggestions for which cheeses and drinks to serve that take into account the high temperatures of summer and the numerous places to hold a soiree when the heat is on.
Air-conditioned home
Triple-Creme Cheese, Sparkling Wine, & Dried Rhubarb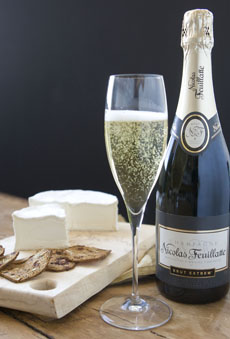 Champagne & Brillat Savarin
s

ource: www.thenibble.com
When stepping outside immediately reduces you to a sweaty and limp version of yourself, nothing can seem as desirable or as decadent as gathering with friends in a heavily air-conditioned home. This is when it's time to eat similarly decadent, triple-creme cheeses, like Brillat Savarin, that would otherwise disappear into a messy lactic puddle during the summer. Keep things cool and classy with a glass of crisp sparkling wine, the natural partner for rich cheeses. Add a festive element to the drink by adding ½ oz of yellow Chartreuse and ½ oz of St. Germain to each glass. An intriguing accompaniment for the cheese is sweetened, dried rhubarb. Both the fruit and the sparkling wine give just enough acidity to balance the lushness of the cheese.
Backyard Barbecue
Wheat/White Beer & Fresh Mozzarella
www.beer-chronicles.com
Something about a barbecue gets the beer flowing. Typically, I opt for full, round, hoppy American
IPAs, but last summer, I found myself knocked out from just two cans of Dale's Pale Ale. The ABV (percentage of alcohol by volume) tends to be high (at least 6 percent) for these flavor bombs, so it's no wonder that when you are already a bit dehydrated and woozy from th
e sun, a few beers can bring you down quickly. For this reason, I am suggesting something slightly lighter, both in alcohol and flavor: lemony wheat/white beers. A more delicate beer necessities a more delicate cheese: fresh mozzarella. Not only is this cheese great for a few brewskis outside, but also for a side dish at a barbecue. Instead of doing the typical
insalata caprese
--slices of mozzarella and tomatoes interwoven with basil leaves and a sprinkling of olive oil and sea salt--try this salad
with mint, cherry tomatoes, corn, and sherry vinegar, which will play off the refreshing tartness of the beer.
Picnic
Feta & Rosé
source: http://seriouslygood.kdweeks.com
You might have to brace yourself for derision if you produce a bottle of rosé at a picnic. People still assume, despite numerous articles and advice to the contrary, rosé is cheap and sickly sweet. Au contraire! It's the perfect summer wine. The color itself is as jolly as the season, and it has a fruity dryness that is a lovely match for food, especially ones on the slightly salty side. You can't a more intentionally salty cheese than feta, but that's what makes it so especially delightful in the summer when we crave saline restoration. I wouldn't recommend bringing just a hunk of feta to a picnic. Mix it into a dip, like one with sweet and hot peppers, or crumble it into a zesty pasta salad with arugula, olives, and sundried tomatoes.
Beach/Beach Club
Mild Washed-Rind Cheese & Cider
source: http://hamptons.guestofaguest.com
I know, cider is another seemingly risky beverage since folks tend to equate cider with the autumn, but it's just right for the summer. Lower in alcohol than wine (around 6 percent) it's delightfully refreshing, and since it comes in numerous styles (sweet, semisweet, dry), it can be matched successfully with about any food. As for cheeses at the beach, I tend to go for something semi-soft that is hardy enough to stand up to the sun and becomes pleasantly softer in the heat. Don't go for anything too pungent (e.g., Epoisses, Ardrahan) that will get unpleasantly stinky in the heat. Try instead something more mild from the same family of cheeses: washed-rinds. Some examples are Italian Robiola, Spanish Patacabra, and French Preferes des Montagnes.
The Sailboat
Juni & Gin and Tonic
What's more fitting for a sailboat than the classic G&T? I vary the classic by adding mint leaves and thin slices of cucumber and lime--absolutely refreshing. To play off the juniper in the gin, try Juni from Italy, a small rustic cow's milk cheese from Italy, studded with pine-y juniper.
Celebrate summer!
Diana Pittet, the cheesemonger